WA CELEBRATES ONE YEAR IN CYBERSPACE! 13.06.03
Well, we've made it to one year ... June 20 marks the launch of World's Away into Taxiride cyberspace, and to celebrate, I'm hoping you can join me in the MSN Community/Support Group Chatroom to have an 'online party'... how do we do that? Make sure you grab some party food, put on your dicky party hat (a bit like those fools below ;-)) and crank up the Taxiride tunes before you hop into the Chatroom so you're in the mood for some birthday silliness! If you can't make it on Monday or Friday night, I will probably be online most nights from about 8.30 - 9pm onwards till fairly late (some of you know my stamina!) throughout the week (except Thursday), so come along and have some fun!
There may be some different celebratory things popping up throughout the week so keep an eye on the updates section on the main home page to see what's in store for the WA Bday Bash!
Thanks to everyone, including Taxiride, for their (positive) support during the past year - there have been more than enough sh**ty situations which have arisen because of this site, so to the ppl and band members who gave me a boost when I didn't want to deal with it anymore...well, WA wouldn't be here if you weren't for you. You're all very special, kind, thoughtful and considerate ppl...thank you :-)
Look who's in the party spirit already :-)


APRA NOMINATION 22.05.03
Taxiride received a nomination in this year's APRA (Australasian Performing Right Association) Awards for Most Performed Work - Creepin' Up Slowly. Fellow contenders for the coveted award were Disco Montego (Beautiful), Silverchair (The Greatest View), Darren Hayes (Insatiable) and Kasey Chambers (Not Pretty Enough), who managed to win the award during the ceremony held at the Four Season Hotel (Sydney) on May 19. Nominations for this award were based on statistical performance.
THE FOOTY SHOW 18.04.03
Taxiride performed on Sydney's The Footy Show (Channel 9) on Thursday 17.04.03. Here's a little bit of streaming Get Set and Afterglow (requires Windows Media Player)!
TAXIRIDE BACK FROM EUROPE 16.04.03
Taxiride return to Australia from Europe last month after a few days of R & R at various locations around the globe. The band performed shows in England, Germany, Italy, France and Holland. Here's some pix from Amsterdam, thanks to Suzette.
NOW YOU'RE PART OF THE A-TEAM! 09.05.03
This is a call out to all Taxiride fans!!! We're looking for people who are interested in joining a new Street Team to help promote Taxiride. What you'll need to do is visit our Street Team site --- http://taxirideateam.tripod.com and leave us your email address so we can contact you with an email containing some questions regarding your location and availability.

At this point we're only accepting a limited number of Street Teamers, so don't feel too disappointed if you're left out, it just may mean that we've got too many people in your area who've already joined up. We do eventually want to increase street team membership, but during this trial period we want to keep the numbers down. This also means that we are only accepting Australian participants, but again we hope to widen street team efforts to include international fans in the future.

May 23 is the closing date to let us know if you're interested, so get in early.

If you have any questions, please contact us at taxirideateam@yahoo.com.au

Thanks,
A-Team Admin
NEW EMAIL FROM WARNER 12.04.03
Warner have sent out a new email. If you haven't subscribed to their mailing list yet, you can do that by popping the Garage Mahal CD into your 'puter while you're connected to the net and send in your email addy. If you really couldn't be stuffed doing that, here's what it said and what it looked like!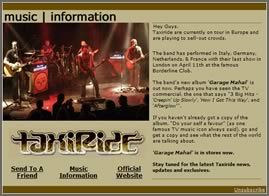 Hey Guys.

Taxiride are currently on tour in Europe and are playing to sell-out crowds. The band has performed in Italy, Germany, Netherlands, & France with their last show in London on April 11th at the famous Borderline Club.
The band's new album 'Garage Mahal' is out now. Perhaps you have seen the TV commercial, the one that says "3 Big Hits - 'Creepin' Up Slowly', 'How I Got This Way', and 'Afterglow'". If you haven't already got a copy of the album, "Do your self a favour" (as one famous TV music icon always said), go and get a copy and see what the rest of the world are talking about.
'Garage Mahal' is in stores now. Stay tuned for the latest Taxiride news, updates and exclusives.
SADDLE UP QLD'ERS! 30.03.03
Taxiride will be performing at the Doomben Raceday event on Saturday May 17. Tickets are on sale April 9 and available from Ticketmaster. Call 07 3268 6800 for more details. UPDATE - Another date has been announced - Parkwood Tavern on the Gold Coast, May 15.
CX MAGAZINE 31.03.03
There's a 5-page spread on the lighting/production side of Taxiride shows in CX Magazine. It's an industry mag so I'm not sure where you'd buy it, but here's the link if you'd like to try and get your hands on a copy.
TAXIRIDE APPEARS ON CHANNEL [V]'S MUSICBUS 21.03.03
Taxiride appeared on the South Australian leg of Channel [v]'s Free Ride Billabong Musicbus, performing in Port Pirie on Wed Mar 19 and Adelaide's Rundle Street Mall on Thur Mar 20. They only had time to perform Get Set and Creepin' Up Slowly for the Port Pirie audience, while the Adelaidians had the better deal with Get Set, Afterglow, Saffron, How I Got This Way and Creepin'. One lucky little lady got a kiss from Jase, although she had to eat a rather nasty looking boiled egg which he'd handled... You're one gutsy lass! ;-\
Here are a couple of pix which were taken on the day, obtained from the Channel [v] site:
DAN HALL IN SYDNEY 16.04.03
Ex-Taxiride guy Dan Hall will be performing three gigs in Sydney over the next couple of weeks. He'll be performing at the following venues (7.30/8pm):
Thu 24.04.03 - Commercial Hotel, Balmain
Thu 01.05.03 - Hotel Hollywood, Surry Hills
Sun 04.05.03 - Sandringham Hotel, Newtown
Look out for samples of his new music coming soon, courtesy of Dan and Caz, and exclusive to World's Away!
TAXIRIDE HEADS FOR EUROPE 21.03.03
Taxiride leaves for a short tour of Europe this week. The band will perform shows in England, Germany, Italy, France and The Netherlands. See the Tour Dates box at left for more details.
AFTERGLOW NEEDS YOUR HELP
Here's a little message from Shel, who'd love for everyone to help out Afterglow - let's get it back in the ARIA Charts!
i just wanted to take a bit of time to ask a big favour. afterglow hasn't been doing as well as it perhaps should be, so i think it's time we gave it a bit of a push. for one week, starting next monday (the beginning of the aria week, 24.03.03) i would like everybody here to go out and purchase a copy (or 2) of afterglow from an aria chart store. There's a full listing at the below url.

www.aria.com.au/chartstores.htm

i think it's only $4.95 at HMV, so its not gonna break the bank! but the other thing i'd like to ask, is that you get everybody you know in on the act as well! i have already hit up heaps of friends and family, and they are gonna help out too. between us all we must know hundreds of people around the country. if we all pitch in, i really think we could make a difference to afterglow's chart position, and help the boys out at the same time. and if you'd like to request afterglow on tv or radio, k8 has a listing on the news section of her site. www.taxirideworldsaway.com thanx everyone!!

ttfn
shel x
THE CHAT ROOM
Taxiride are appearing on Channel 7's radio/TV crossover show, The Chat Room, which starts at 9.30pm on Mon Mar 24.
ALL AGES SHOW FOR MELBOURNE FANS
Taxiride will be performing at La Trobe University on Wed Mar 26 in the Union Hall. It's an all ages event, and tickets are $20 ($15 for uni students). Phone this number if you have any queries: 03 9479 2314.
OFFICIAL TAXIRIDE MERCHANDISE
The official Taxiride site has finally opened their own long-awaited merchandise store. You can buy Taxiride's albums and current singles plus clothing normally available at shows (shirts, cap, sweat band - minus the sweat).
THE BUS IS BACK!
Taxiride will be joining Channel [v]'s Free Ride Musicbus Tour in South Australia - Port Pirie (Mar 19 @ Memorial Drive with Killing Heidi & David Franj, 5pm) and Adelaide (Mar 20 @ Rundle Mall with David Franj, 5pm). Repeats on [v] are Thu 1am and 12pm for Wednesday's performance and Fri 1pm for Thursday's bus.
AFTERGLOW PRESS RELEASE: Taxiride Get Set To Glow (found here)
Afterglow', the third single from Taxiride's platinum selling second album, 'Garage Mahal', is - in the words of singer/guitarist Jason Singh - "our proudest moment".
A rock song of grandeur and gristle, 'Afterglow' is the confident sound of a band extending its musical boundaries. Written by Tim Wild, Tim Watson and Jason Singh, it is a subtle but adventurous departure from the frisky pop-rock of earlier hits like 'Get Set', 'Everywhere You Go', and 'Creepin' Up Slowly'. It is as hook heavy and melodically rich as the Taxiride you have come to love, but the addition of a multi-tracked violin and cello string section lends 'Afterglow' an epic, emotive feel which accentuates its bittersweet tale of love on the rocks.
"It's about a relationship that's forced apart by circumstance, not a lack of feeling", says Jason. "But its also about someone leaving and then trying to force their way back into that life".
As befits a band who derives its current album title from rock and roll's sacred site, the suburban garage, Afterglow was forged in the fires of an extended jam session. "We wrote the song when we went up to Mt Macedon do some songwriting", says Jason. "It was this old heritage protected house with a million dollar tulip garden that just happened to be owned by the parents of one of Tim's (Wild) old friends from school. They had a couple of pianos in there, so it was one of the first and only songs on the album that was written with a piano instead of an acoustic guitar". A rough demo complete, the band hit the studio to realise their vision. "We wrote all the string parts and got this string quartet to come into the studio, recorded it there and just doubled it and tripled it and made it sound like a huge section. But there were only three people on there", laughs Jason.
Anchored by a drunken bass line, propelled by surging guitars, lifted by swirling strings and earthed by authentically heartfelt vocals, Afterglow is the kind of song any band would be proud to write. "Hopefully it says that we felt musically rich at the time", says Jason. "It was just something that came out perfectly for us, and it is our proudest moment".
AFTERGLOW is released on February 10, 2003. The CD single features the non-album track NEVERMIND, GET SET (2002 MIX), FOREST FOR THE TREES & ENEMY (Recorded live in Japan 2002) & HOW I GOT THIS WAY video. The sensational AFTERGLOW video (filmed in Sydney) was directed by US director Sam Erickson who also directed the HOW I GOT THIS WAY video.
THE NEW VIDEO... ONLINE NOW!
The video for Afterglow can be seen on ninemsn's music site. The same director who shot How I Got This Way came out from America, so it's kind of similar. Check it out (thanks to Tash for the info).
WARNER MAIL-OUT
Just thought I'd let you know that Warner has recently emailed out an Afterglow announcement, so make sure you're subscribed to their Taxiride mailing list - you can do that through the Garage Mahal CD-ROM.
TRIPLE M MUSICAL CHALLENGE
The guys recorded another Triple M Musical Challenge in Sydney yesterday (Jan 29) - this time System of A Down's Chop Suey gets the Taxiride acoustic treatment! A copy of the performance is available on the Multimedia page now.
SUMMER STAMPEDE TOUR 2003
Taxiride have officially released a stack of tour dates for the upcoming Summer Stampede Tour which kicks off in Albury on Jan 22. Check out the Tour Dates over on the left for dates and locations. There are quite a few all-ages and under-18-only shows in the mix, so make sure you check with the venues for all the details.
QLD AFTERGLOW INSTORE
There will be an instore appearance at a shopping centre (I can't remember where...I think it might have 'Sugar' in the name - QLDers help me out!) on Feb 8.
Update Feb 2 - Okay scrap that for the moment. The wonderful Fran from QLD has done some investigigatory work for me, and found out that there's an instore appearance at Sanity, Queen St Mall on Sun Feb 9 from 12pm.
Update Feb 4 - The shopping centre in question is Sugarlands Shopping Centre in Bundaberg. I'm sure there's something there on Feb 8 from 12pm, so check with the centre for more details.
Australian Open Performance (found here)
"On Sunday, January 26, about an hour after the end of the men's final, a huge concert will be held at Garden Square. The event is open to all ticketed patrons and will feature the internationally acclaimed Australian band Taxiride."
Tickets are $115 for adults and $109 concession for the tennis bit, or $15 for a ground pass (I know what I'd be paying ;-)). I doubt it will be televised as Channel 7's broadcast ends at 6pm...I could be wrong though...Please note that I try my best to find out about TV performances to let you know as soon as I possibly can, but sometimes things work against me and I don't find out till it's too late.... I try!
Rage & V Hitlist
Afterglow will be shown on Rage this Saturday morning (25/01) just before 5am (thanks for the info Phillipa) and on Channel [v]'s Hitlist, which is shown on Monday @ 10am, Wednesday - 9am, Thursday - 7pm and Saturday @ 7am (thanks to Karen).
Channel [v]'s Top 200 of 2002
If you've only just joined the Taxiride bandwagon recently and you need the Creepin' Up Slowly and How I Got This Way videos, AND you have access to [v], then you can see them just one more time! CUS is at 90, and HIGTW is 187. They'll be shown on Australia Day (26 Jan) from 7am till 9pm, so I'd say HIGTW would be on around 8 - 8.30am, and CUS between 1 and 2pm.
[V] Taxiride-Rumba Wallpaper
Click here to download Channel [v]'s Rumba Wallpaper, which looks a little like that spunky picture on the left there! If you like the other Rumba! artists, such as Pink, Natalie Imbruglia, Bon Jovi, Shaggy or good ol' Sophie Monk more than Taxiride, then click here for those wallpapers instead.
A Meeting of the Minds
My partner in crime, Ed, has started a new forum called Taxiride - The A-Team. Please take a look and join in on the meaty discussions ;-)! Meanwhile, her site Garage Mahal has miraculously resurrected and can be found at the spunky new addy, www.thinkaboutooh.com.
Media Frenzy!
The 'ride have been featured in the Sydney media recently in the wake of last week's Rumba festival:
There's a photo of Jase with a Kelly Osbourne cut-out in NW magazine (Dec 23 issue) (right);
A report written by a journo who went undercover as a Rumba paparazza featured her best photographic attempt in the Sun Herald (Dec 22) - it just happened to be a shot of Jase;
The little picture that was in the Confidential section of Sydney's Daily Telegraph (Dec 16) (left);
Finally, respected music reporter Kathy McCabe stated in Dec 22's Sunday Telegraph that Taxiride were the leading 'contenders' for the Nicest Stars of the Rumba tour award (not that it exists)!
Drum Scene Magazine
Another member of my network of Taxiride spies has found an ad for 'Vater Drumsticks' in the latest edition of Drum Scene magazine. Why is this so special? It features our favourite tub-basher Sean McLeod! My mole also tells me that the mag has a smashing review of Garage Mahal - great stuff!
Thanks Caz, Coz!
[V] Stuff
There's an interview with Taxiride on Channel [V]'s What U Want Rumba! Special on Dec 19 from 4pm. There's some photos of the interview/performance here.
Public Service Announcement for Jason Singh!
While you're looking very trim, taught and terrific, Jase, Edwina and I think you need a little more meat on your bones....(go on!)
Did You Know...
...That Jason wanted to be an Astronomer? Read this NZ article to find out more. I've also added the Rolling Stone article - find it under the Print section of the Multimedia page.
Oh yeah, I totally agree with Andy - NZ has fantastic countryside!

More 'Special' Photos :)
A great big THANK U to Andy for sending along 3 more exclusive Rumba photos from Adelaide. You can check them out here, and look for your mug in the crowd if you were there!
Cruisin' with Bon Jovi
Taxiride went cruising with Bon Jovi around Sydney Harbour on Dec 13. Check out the pics here.
Rumba Photos
Click here to check out a ton of photos from the Adelaide Rumba; Auckland Rumba photos are here, Melbourne Rumba photos are here and there are three crappy photos from Brisbane here.
Triple M New Stuff
Creepin' Up Slowly is featured on the Triple M's latest CD, New Stuff Volume 4.
Like a Rolling Stone...
Rush out and grab the latest copy of Rolling Stone magazine - it features a two-page (credible) interview with the band, plus a couple of nice pictures. The article also confirmed that Afterglow will be the next single.
Jetset Ad
If you haven't seen the new Jetset Travel ad featuring the original version of Get Set, you can catch it during Channel 9's Today Show, as they are one of their sponsors.
Triple M Sydney Performance
Taxiride visited Sydney for a few hours today (22/11) to appear on Triple M's final The Shooow for 2002. They performed HIGTW and Creepin', plus talked a little bit about Garage Mahal.
Pssst! If you're looking for a pressie for Taxiride, they love Nikki Webster's Strawberry Kisses!
New Multimedia
Take a look at the Print section of the Multimedia page - I've added the Herald Sun (17/11) article / pictures, plus Jase's latest attempt at the "magnum" which is in the December issue of Cleo, and the last couple of Cleo shots from 1999 and 2000. He's probably doing 'investigigatory' work for a 'eugoogelly' at the moment ;o) (you have to have seen Zoolander to get these refs!).
There's an A4-size poster of the Taxiride kids in the latest issue of Smash Hits to promote Rumba (it's the other Zoolander picture - HIGTW!).
New Support Group for the Taxiride-Addicted
I've just set up a Community (or support group ;)) over at ninemsn. Fill in your details below to receive an invitation to join, or simply go and have a look at it / post something on the Message Board here. I will be organising chat times soon, so join up and join in the fun! (my that was corny).
Herald Sun CD
Came across this on The Herald Sun's website. Lucky Victorians, cut out your coupon and take it to your newsagent next Sunday (17/11) to get your free CD. Read more about it here.
It is not available in other states yet so speak really nicely to a Melbourne fan *I see a potential money-making scheme here ;)*
Tracklist is Get Set (original), Creepin' Up Slowly (Live at the ARIAs), Nevermind, Skin (Live acoustic performance recorded in Japan), and the absolutely rocking new version of Get Set (2002).
There's also an interactive multimedia component featuring a bio and pictures, plus the Creepin' and HIGTW videos.
(New) Message for Taxiride!
Thanks fellas - I feel much better now :) By the way, sorry I called you...um... JC...
Sain ARIA Snap
Run down to your local Sanity store to pick up a copy of the latest Sain magazine.
It features this pic (What's the go, Watto?! I'm getting enough pictures to start an X-rated photo page) --->
RIP Garage Mahal
It is with great sadness to announce that, due to a variety of reasons that I ain't going into, Ed's website Garage Mahal has passed on and is now resting in cyber heaven. You can still visit the site for the next couple of weeks, but after that you'll have to come here to see her photos and be kept up to date.
It's no great loss though - we all knew that this site was the better one anyway (:P @ Ed & JS)!
New Things
Check out the Photos and the Tour Diary to see what the go was at A Day on The Green and Dapto Leagues.
There's a funky new t-shirt on sale at gigs. It's red with taxiride written in white on the side and black going across. It's $25.
So Which Song Is It?
Well, there's a rumour about that Afterglow will be Taxiride's third single. This will no doubt please 12% of my 75 voters, however popular opinion suggests that Taxiride's third single should be ....*drum roll please*.... STRONGER!! I think it's a great choice - it definitely has that radio-friendly sound and a cool vibe that the masses seem to like (similar to Creepin'). Stronger gained a good 19% of votes, followed by This Time and Happiness Without You (both 16%); Enemy, Forest for the Trees and Afraid to Fly took 9% of votes, while Wait and Skin trailed behind with 7% and 3% respectively.
FROM THE DESK OF THE WEBMISTRESS (i.e. me!)
1. World's Away has moved
Because this site just keeps getting bigger each week, I've had to move the whole kit 'n' caboodle to Tripod. The new address is:
http://worlds-away.tripod.com
The current address (drive.to/taxiride) will still be in operation but if you want to minimise popup ads, it's a good idea to bookmark the above address.
2. Photos
Just a reminder - it's really important that live photos are not taken from this site and displayed elsewhere. If this happens... I'll hunt you down!! >;o) Also, if my stills are displayed on other websites without permission, I will be really disappointed because they represent a lot of work on my part.
3. Taxiride Video Footage
I've had a few requests lately for video footage. Yes, I have almost everything since late '99 but I don't have two videos or a huge amount of time to do it, and no, I'm not lending out my tapes!! However if anyone else wants to help out, please email me and I'll put you in touch with the requesters.
How I Got This Way Released
The second single was unleashed to the public on Sep 23 featuring two new songs, Alright and Love the Sun. Lyrics to the two new B-sides are up now on the lyrics page.
If you haven't seen the video yet, it features Jase driving through the Arizona desert looking at a polaroid of an exotic young lady who he obviously had/has a thing for. You can see it online here, or check out some stills here. Scroll up to see where it 's sitting on the ARIA Charts!
By the way, how's your backyard?
Photos Galore...
Taxiride are probably one of the most photographed bands in Australia right now....If you have any photos you'd like displayed here at World's Away, feel free to send them in to taxiride_worldsaway@yahoo.com.au (like Billy says, JPEG's only!!).
New Webring
Ed has started a new webring for sites which are up to speed with the Garage Mahal era. Click here to view it or join it if your site fits the bill.

Gold! Platinum!
Creepin' Up Slowly has gone platinum (over 70 000 copies sold) and Garage Mahal gold (over 35 000). Congrats fellas!

Rumba
Taxiride are performing at the Rumba festivals around Australia this December and NZ in November. Check out the tour dates for locations - Tickets are $94.30 and available from Ticketek now. Click here to see the official Rumba site.

New Album 'Garage Mahal' Out Now
Taxiride's second album Garage Mahal was released on Aug 5 to mixed reviews (I think most have been positive!). Where did the name come from, you ask?

"While we were in the US we ran into a woman who had been a blues jazz singer in the '60s and '70s. We were in a seedy little Palm Springs resort, singing karaoke and we had a few drinks with her. She started telling us about the band she used to be in and it was called Garage Mahal and we loved it." (TIm Watson)

This album's a more mature sound for the band, but still features those fab trademark harmonies.Tracks to listen out for are How I Got This Way, Afraid to Fly, Happiness Without You, Enemy, Stronger, and Saffron.

Put the CD into your computer and check out the multimedia component (tip: if you want to use the wallpapers, you need to 'explore' the CD, open the Media folder, find your desired paper, right click on it and 'send to' My Documents. Use the Control Panel to find your wallpaper, otherwise it will disappear when you remove the CD).
-:- back -:-