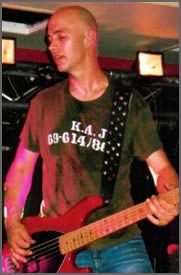 Name Andy McIvor
Nickname n/a
Birthday In the free lovin' sixties (Nov 9...Andy might not remember the Wyong 00 b'day gig ;-))
Star Sign Scorpio
Hometown Melbourne, Australia
Previous Band Brill small independent
Influences Everything
Hobbies Knitting/sewing/doll making
Touring Likes New places
Touring Dislikes Miss the family
Food Likes Everything but peas
Food Dislikes Peas
Do I Cook when im home
Coolest Place Goa
Fave TV The Simpson's
Fave Footy Team Hurricanes/Super 12
Fave Gig Berlin
Fave Albums Stranglers greatest hits
Fave Songs All the ones I like
Fave Book Serpentine/Thomas Thompson
Fave Movies Midnight Express
Fave Actor All the good ones
Fave Music All of it
Fave Animal Dog
Describe Yourself In 3 Words I'm not sure
Person You Would Most Like To Meet The Queen
First Job Muso
A Talent You Wish You Had Spell
What Can You Never Leave Home Without Kids' wishlist
Which cartoon character would you be? Bart
One minute to live... What would you do? Watch Watto for 1 minute
First thing you think of when you wake up in the morning? Food
Thanks Andy!